Hello charming man. My name is Anastassiya. I have set my eyes on you you at the website of a bridal portal in my city and the stuff had given me your email address. I am an extraordinary, mild and calm and sexy person. I am dreaming to to have in my bed and heart my lawful gay, my second best half. I am seeking a hunter who will love me and will be loved by me. I have never stood in front of the alter in my life. I dare hope you are not married, because I am not going to go out with a burdened fellow. I love kids that is why I work as a teacher at a primary school. My specialization is English language. I am keen on music, preparing different tasty things, reading, traveling and many other wonderful things. I know English and I am really fluent in speech. If you are interested in acquaintance with me, please answer using my email address. If you write me back I will send you my pics. I am in the hope you will react to my cry for help and will not delete it without reading. I will be looking forward to your answer. Have a good day!

If you are interested Please reply ONLY to my personal mailbox:

demirtekinsaglami942@gmail.com

Always yours, Anastassiya.
Originating IP: 182.22.37.30
Originating ISP: Yahoo Japan Corporation
City: Tokyo
Country of Origin: Japan
Date: Sat, 28 Jan 2023
From: Mije Meiq <xjqny988@yahoo.co.jp>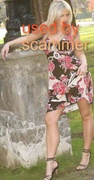 <<< porn chick
Ann Angel